In countries like the United States, stationery is somewhat of a niche topic, which can make finding unique pens, stickers, and letter sets a difficult task. But what about Japan?
Japan has a rich tradition of stationery that dates back centuries. Stationery has been highly valued in Japanese culture, with an emphasis on craftsmanship and attention to detail. From exquisite calligraphy brushes to Mino washi paper, stationery in Japan is more than just an afterthought—it's beyond popular!
Whether you are a seasoned calligrapher or just starting out, Japan is the perfect place to begin your stationery collection, so if you're visiting, be sure to keep reading to learn the best shops to see.
Top Stationery Stores in Japan to Visit
When it comes to stationery shopping in Japan, there are a few stores that should be on every stationery lover's itinerary. These stores offer a wide selection of high-quality stationery items and provide a unique shopping experience.
We've curated some of our favorites in this blog post and if you're interested in visiting them all be sure to save our Google Maps list so you don't get lost on the way there!
Here are three must-visit stationery stores in Japan:
1. Suzuki Shofudo: Located in Kyoto, Suzuki Shofudo is a hidden gem for paper gifts and accessories. The store offers more than 30 patterns and over 50 original products like Washi and Kaishi made of Japanese paper. 
2. Traveler's Factory: This shop was so much fun to visit, we couldn't help but give it its own blog post! This brand has multiple locations, but we visited the Tokyo Station and Kyoto ShinPuhKan stores. The store also hosts workshops and events, and if you're lucky enough to attend one, it's an amazing opportunity to engage with the stationery community in Japan.
3. Itoya Stationery: Situated in the heart of Tokyo's Ginza district (2 Chome-7-15 Ginza, Chuo City, Tokyo 104-0061, Japan), Itoya Stationery is a five-story stationery paradise. The store offers an extensive selection of stationery and art items, from copics and acrylic paints to luxury leather goods. 
1. Suzuki Shofudo
Suzuki Shofudo is located near Kyoto's Shijo station, offering a selection of original products made from Japanese paper. These range from stationery products and notebooks to unique creations like a pasta holder. Don't believe me? You'll have to visit!
When we visited, we were delighted to find an absolutely adorable Demon Slayer section featuring traditional designs like the ichimatsu, urokomon (scale), and asanoha (hemp leaf) patterns. It is located next to the popular Nishiki Market which means you can hit two birds with one stone by visiting both.
2. Traveler's Factory
Traveler's has multiple locations, but all of them cater to creative souls. Their store offers a wide range of unique and innovative stationery items that are perfect for journaling, scrapbooking, and creative writing.
One of the highlights of Traveler's Factory is its range of Traveler's Notebooks. These notebooks are designed to be customizable and can be filled with different types of inserts, such as plain paper, lined paper, and watercolor paper. My personal favorite is the sticker-release paper, which allows you to use and reuse your collection.
If you visit, remember that there is a section dedicated to stamping your notebook, so be sure to decorate your new journal before you leave!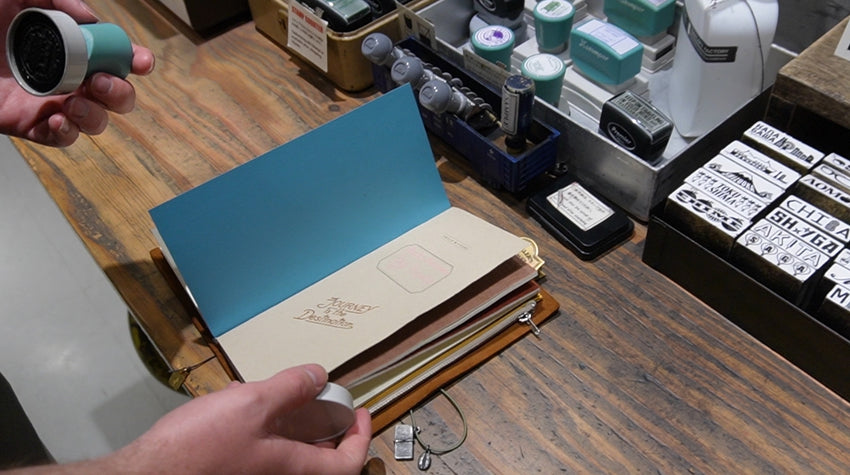 3. Itoya Stationery
Have you ever visited a craft wonderland? Located in Tokyo's Ginza district, with its five floors of stationery bliss, this store is a paradise for creatives and art enthusiasts. From paint pens and papercraft to luxury home goods, Itoya Stationery offers a wide range of high-quality items that are sure to send any artist into a full-on frenzy.
One of the highlights of Itoya Stationery is its wide selection of paints and pens. The store carries a variety of brands, from well-known names to lesser-known gems. Whether you are looking for a fountain pen, a rollerball pen, or a ballpoint pen, Itoya Stationery has something for everyone. The store also offers a wide variety of shades for their paints and copics.
In addition to its impressive selection of products, Itoya Stationery is known for its elegant and relaxing atmosphere. Each floor of the store is beautifully designed and showcases the stationery items in a visually stunning way. Take a look at the video below to see why a visit Itoya Stationery is a must when in Tokyo!
Must-Have Stationery Items to Buy While in Japan
When shopping for stationery in Japan, there are a few must-have items that you should consider adding to your collection while you're there. These items range from practical to just plain fun. Here are some must-have stationery items to buy in Japan:
1. Washi Tape - Washi tape is a decorative adhesive tape that is made from traditional Japanese paper. It comes in a wide range of colors and patterns and can be used for various purposes, such as decorating notebooks, gift wrapping, or creating art.
2. Goshuincho or Traveler's Notebooks - Goshuincho is a special notebook used to collect goshuin, which are stamps or seals that are obtained at temples and shrines in Japan. Each stamp represents a visit to a specific shrine or temple and is a unique way to commemorate your travels. However, if you don't plan on visiting temples you could always buy a Traveler's Notebook to collect tickets and paystubs as souvenirs while journaling your journey.
3. Fudepen - Fudepen is a flexible brush pen that is commonly used for calligraphy. It allows for precise and expressive strokes and is a versatile tool for both beginners and experienced calligraphers. You can learn more about it in the video below.
4. Kokuyo Campus Notebooks - Kokuyo Campus notebooks are known for their high-quality paper and functional design. They are perfect for note-taking, journaling, or even sketching. Plus, they come in such cute designs that you have to love them! 
5. Pilot's FriXion Pens - Although FriXion pens do exist in the United States, there are a wider array of design choices overseas. These innovative pens are known for their thermo-sensitive ink, which make them perfect for students, professionals, and artists who want the flexibility of a pen with the capability to erase. 
These are just a few examples of the many incredible shops and gifts you can find in Japan. But if you don't feel like flying all the way there, consider taking a look at our store! While we don't carry all of the items listed here, we do sell many interesting and unique stationery products from Japan.